Thump, thump, thump.
I turned around to see Nick and Stefan running up the road behind me, zooming along at a pretty good clip.
"Where is the rest of your group?" Nick or Stefan asked.
"They are ahead – go catch them!"
And they zoomed off even faster.
Alaska Cross is a semi organized unofficial race that was originally from Chena hot springs to Circle Hot Springs in Central. The last few years the course has bounced around a bit, trying routes in the Alaska range in a few different locations, but now it was back to the original form, and I really wanted to do it. Tom and I made plans to do it, and eventually joined up with Drew, and finally Seth at the very last minute. Before the race there was a bit of discussion of routes, all with tradeoffs of one sort or another.
The race start was a pretty low key affair – there were only nine people there, and after a short talk by the (un) organizer Mark Ross, everyone was off. The two runners, Stefan and Nick, zoomed off, while the rest of us plodded along on foot.
We took the "default" route, taking the quest route over to Birch Creek, then floating Birch Creek down to a bit before Harrison Creek and hiking the ridge over to the mining road, and walking the road out to Circle Hot Springs.
I haven't been on this section of the Yukon Quest trail before, and I was super excited to see a section of new trail.
Rosebud summit was neat to see, and it was great to think of all the epic adventures mushers have had going up and over it from the comfort of a nice warm summer day.
It was pretty scenic and very fast walking, at least until the last few miles which were a bit tussocky. At this point in the race it was pretty clear that Tom and Drew were in much better shape than I was. They were much faster going up hill, and Tom in particular was powering through the tussocks at a pretty amazing pace.
We arrived at Birch Creek around 5pm. The creek was, alas, a bit on the low side, but that was expected. We had talked about shortening the float by taking a longer route to the river – trading 10 miles of hiking to cut off approximately 25 miles of floating, but tales of how bad those 10 miles would be made me a bit concerned.
I unpacked, inflated, and messed around a bit trying to put together a makeshift replacement for the spray skirt poles I had left behind accidently cobbled something together from willow branches (which worked ok – hurrah!). Skirt semi-assembled, I looked over and saw that Drew was totally packed and ready to go, and Tom was almost ready – doh, I was holding folks up! I got moving and was soon ready to go, but alas Seth still had a considerable yard sale spread all around him.
This was the story of the trip – Drew packs up almost instantly, and is ready to go fast, Tom is nearly as fast, leaving me in a panic that I am holding everyone up. And of course, I was!
Just as I was starting my full on panic packing, Jenna, the only solo entry popped out of the woods. She seemed to be in great spirits and it was looking like she was going to be ready to go before I was, causing my packing to get even more frenzied!
The wait on Seth's yard sale continued until Tom and Drew's egg timers went off, and they headed out. I took off with them, figuring that Seth would get going and catch up on the river.
The float was pretty uneventful. Paddle. Paddle. More Paddling. I think we found we could make around four miles per hour if we paddled continuously which we did except for 3 breaks to stretch our legs and warm up. Fortunately it was windy on the river, which kept the temperatures warm. Which was awesome, as the first year I did this route I had ice on my deck in the middle of the night – it was a bit cold!
We saw Jenna and Seth periodically, but they seemed to yo-yo around us, getting ahead then falling back.
In the early hours of the morning we bumped into Nick and Stefan as they were preparing to cross the creek.
They looked to be in pretty good spirits, but I was pretty happy we didn't take the route with more walking as they had light packs and still were not very far ahead of us.
We ran both rapids on the creek after boat scouting them – they were pretty tame at this low water level.
Just as the sun hit the river it was time to take out, and Seth joined us just as we pulled up on a rocky beach to take out. Everyone was a bit discombobulated, but we got packed up climbed a hill over to the mining road we would take to walk out to the hot springs.
The climb took me from cold as I left the river to really hot as I sweated away climbing up hill. Drew and Tom zoomed up the hill like it was nothing as I slogged along in their wake.
Zoom the climb was over, and it was down, down, down to the mining road, where I took advantage of an outhouse nicely situated near on top of a little mound near the road to answer the call of nature. Just about finished with the deed I discovered the outhouse was very unstable and there was a bit of a panic as I tried to get out without having it fall over and slide off the hill..
Then it was back to the road, walking, walking, walking.. until Mark Ross showed up.
This is the first year he hadn't done the race, and I think he was not sure what to do with all his nervous energy.
Eventually Mark drove off, leaving us to enjoy the dry, hot walk by ourselves. Tom, Drew, and then Seth all tired of my slow pace and disappeared off in the distance.
Tired and with sore feet I pulled in 20 minutes or so after Tom and Drew, and a few minutes after Seth. Nick and Stefan finished 20 minutes or so before Tom and Drew, and giving them the win. Jenna pulled about an hour after me, looking happy and chipper.
The total mileage was 72 miles, 45 of which was floating. Our average pace including stops while walking was 2.5 mph, 3.5mph floating.
I brought just enough food – I was down to three gels (GUs), two snickers, and a little bit of frito powder when I finished.
Thanks for the company Drew, Seth, and Tom! And a huge thank you for picking us up at Circle Hot springs Trusten – that pizza you brought to the finish really made my day!
A few notes:
Like I mentioned, I should have brought more food in case it took me longer.
I really felt like I was holding folks up this year, I definitely need to get into better shape.
I took my new HMG pack (all the cool folks are using them, got to join in! 🙂 ) on this trip, and it was the first time I have used it in any real sense. I liked it, it seemed to work very well, carries fine. One gripe – it is hard to water bottles in and out of the pockets on the side without taking the pack off, which is a bit of a downer.
P.S. After I got home I fell asleep on the couch, and was apparently out enough Molly (one of my daughters) could "paint" my toenails blue with a magic marker. Sigh.. 🙂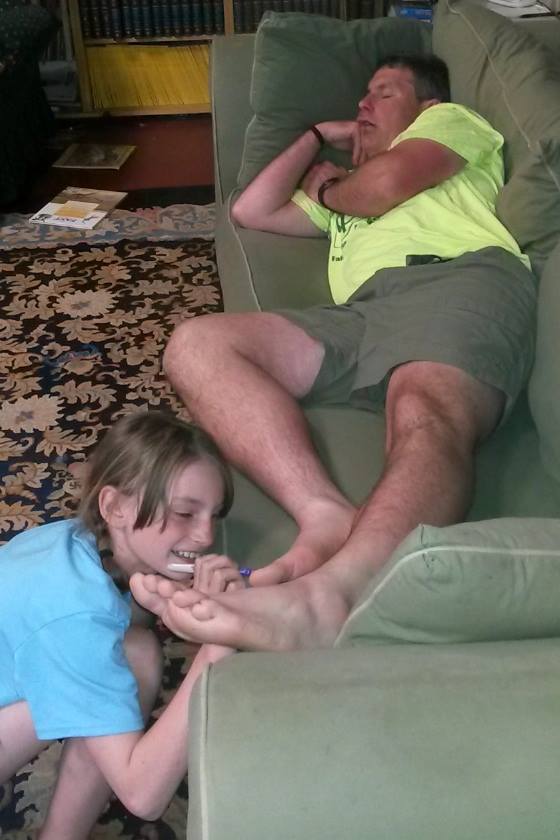 Map:
Tags: alaska cross, birch creek, no sleep till brooklyn, packrafting