Tom and I had been planning on doing the classic Nebesna to McCarthy trip, but as the time approached, it was looking more and more like it was going to be pretty horrible weather-wise. The Nebesna Road washed out, then the Richardson highway washed out, and the forecast had more rain than I thought was fun. Walking up Cooper and Geohenda at a near flood stage seemed less fun than it could be. Eventually, we settled on the backup plan of biking Tok to Dawson, then packrafting to Eagle, and biking back to Tok. It would be a loop, with some bike rafting, yay! I hadn't been to Eagle outside the winter, and I had never been on that section of the Yukon.
So on a sunny early afternoon, Tom and I left Tok, heading to Taylor Highway.
The first day was awesome, but oh so hilly. The road had also had its lines newly repainted, and DOT perhaps spent less time cleaning up than they should have…

We spent the night at the West Fork Campground, which is the nicest campground I have been at pretty much ever. We camped in a biker spot that had a covered area with a nice view from a small bluff.
In the evening I watched a muskrat or very small beaver swim back and forth in a little lake below the bluff. It is a beautiful spot! The campground host was a bit starved for human company and was super chatty.
In the morning we left for Chicken and Canada. A few minutes into our ride coming around a corner I startled a wolf, which gave the rest of the day a nice feel.

We stopped to explore the various parts of Chicken, then moved on and camped in Canada across the border.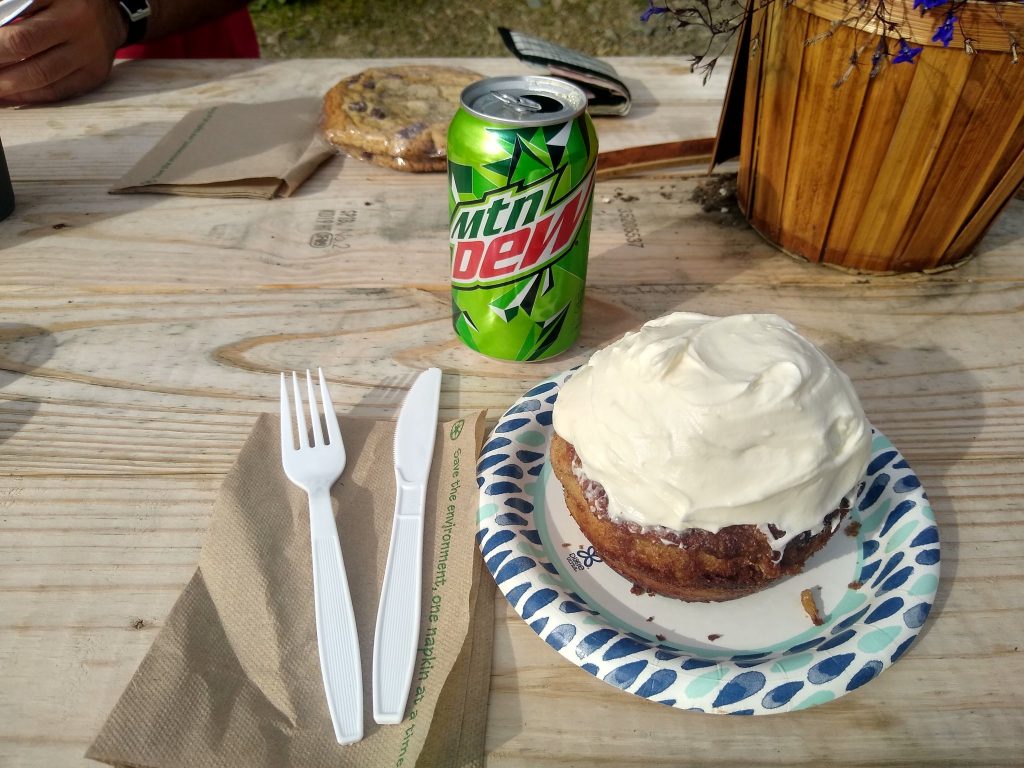 A healthy mid-morning snack at Chicken. Photo compliments of Tom M.
We went to bed in the rain, and I had to get up in the middle of the night when the floor of my tent started floating – apparently, I had set up my tent in a puddle! After I relocated it was much better.
The next day we made it to Dawson, and it started with a really long downhill – yay!
Tom enjoying the ferry life..
We explored a bit, had dinner, resupplied, and even showered – yay! Tom got some scanned copies of a Yukon river float guide with really wonderful maps and notes that I was later to by Yukon River (Dawson-Circle) by Mike Rourke .

My resupply was a bit chaotic – the little Dawson store was crowded, I was overwhelmed by options, and I had not yet processed that the next 100 miles were by river not bike, so I could take almost anything with me.

The guide was great, but I was amused by references to "overgrown" this, and "overgrown" that. I got the feeling the author hated trees. The next day we floated down the Yukon, putting in at a little tiny cove right above the ferry landing.
It was an awesome launch spot, and the float was fantastic. I had been worried a bit about floating the Yukon – it is a big river and moves fast, and the bike on the boat is a bit awkward but was all good, and a super fun float. There were a few odd eddies called out as "Strong Eddy" in the guide, but otherwise, it was a fast and mellow float.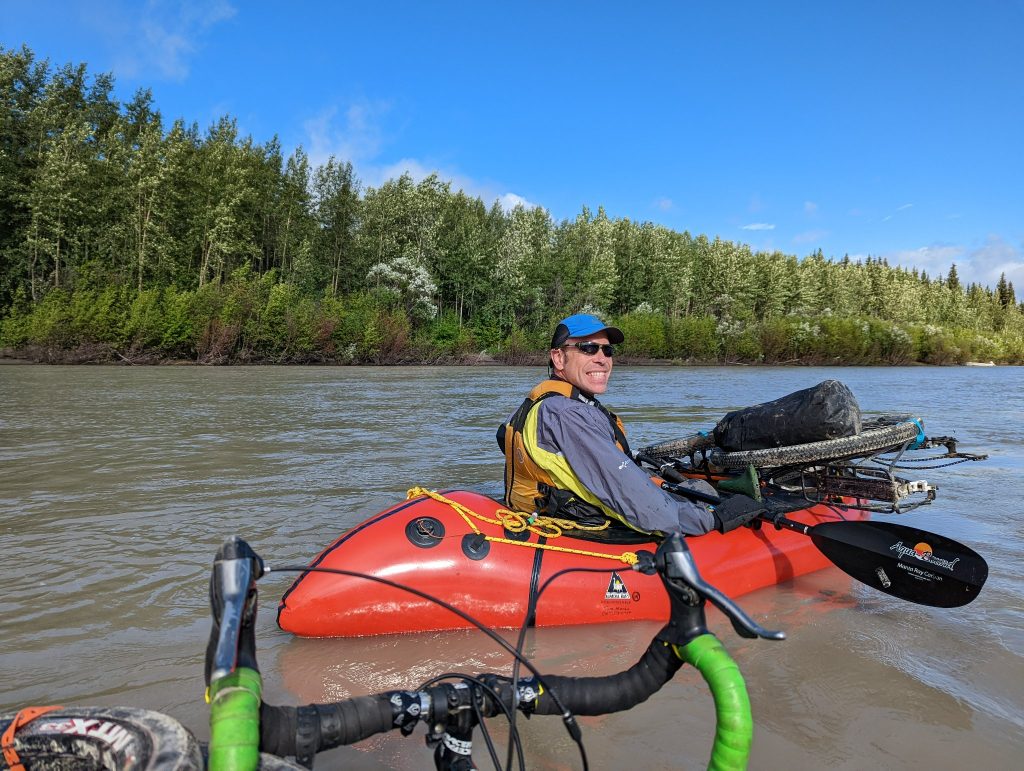 Tom hamming it up.

We made Forty Mile (which is 50 miles from Dawson) in the late afternoon and made camp.  Forty Mile was awesome, and a super neat place to explore.


The buildings were neat to explore, and the campsite was top-notch.  We did find a few odd things though…



Alas, I discovered in my confused shopping daze in Dawson that the "Wow Butter" I had purchased was soy butter, not peanut butter. It was still good, just gave my "peanut butter" & bagel lunches an odd flavor. When I got back the twins made fun of me for being such an idiot. The peanut in the red circle with the cross should have clued me in…

In the morning we headed out and floated to Eagle. We had the river entirely to ourselves besides seeing a dog on the river bank, and a single skiff headed upriver. The driver of the skiff was too busy scanning the riverbanks to notice us, and I think didn't even see us as he zoomed by.
Tom at one point accused me of being a weather doomsayer. I was apparently always pointing at dark clouds and saying we were about to get rained on. Fortunately, we didn't get rained on much on the float. I had been told stories of horrible headwinds on the Yukon, with big waves that come up quickly, but we didn't see any sign of it, though it loomed ominously in my avid imagination. /


The views from the river were fantastic! At one point Tom and I agreed the trees on the hillside above us looked just like a scene from a model train set – idealized trees, surrounded by green foliage. There were also huge rock bluffs, and neat rock formations, not to mention a very curious seagull that followed us for miles. The gull might have gotten some crackers from me…
We arrived in Eagle too late for the store to be open but explored a bit.

Portent of doom?
I was very worried about calling into customs, possibly overly concerned about it. We had been told about a phone next to the dock, near the store. After a bit of searching, we found it and called customs to report in.
Then camped at "Fort Egbert", a place of some significance to me. My middle name is Egbert, and I've always hated it.
In the morning we hit the store, arriving an hour before the opening time due to our not changing our clocks, but the guy running it didn't mind and let us in. We then headed out and biked to the Walker Fork Campground.


The ride was fantastic, but again, oh, so hilly! It was very, very scenic, and I really enjoyed the narrow road with almost no traffic. The next day we completely loop back to Tok, stopping for a nice dinner at Fast Eddies, and were home in the late evening.
This trip was very worth doing. I had a blast. Things to note:

All the float times I got for the Yukon were way off. The water was hauling. Going 6-8mph consistently.
Getting to shore required work – the current was so fast often that the perfect spot would be way gone by the time we reached shore.
Packrafts were fine but were not fast (See above.)
The road surfaces were pretty good and not very muddy.
Chicken has several gas station-type places with some basic snacks and several places to eat. Otherwise, the only resupply options are Dawson (a big store) and Eagle (a small, but well-stocked store)
Check the expiration dates on anything you get from the Eagle store. On a past trip, I got several years expired cheese, and on this trip Tom got a box of granola bars that were several years expired.
Water worth drinking was a bit hard to find on the Yukon, but not impossible.
The Yukon was so much more scenic than I expected!
Eagle has a post office, with better planning I would have mailed my boat back to me in Fairbanks.
The BLM campgrounds and the campground on the river at Dawson are fantastic!
The highways are much, much hillier than I expected.  So many hills! 
Mileage Totals:
Tok to Dawson – 190 Miles, 16kft of climbing
Dawson to 40 Mile – 50 miles
40 Mile to Eagle – 51 miles
Eagle to Tok – 175 miles, 16k ft of climbing
I really want to float Eagle to Circle now. I hope it is in my future!