To preface this post, this page is now near the top of the hits from Google for searches for the Alaska Wilderness Classic, which makes me feel a bit bad about it. This writeup is just intended to convey my experience, and I didn't approach the event all that competitively, and I am a bit of a nincompoop. Luc Mehl has a much better write up and Andrew Skurka has a very nice writeup on the 2009 race – I would start with those to get a better idea about the event, rather than starting here. -Jay
For years I have followed the Alaska Mountain Wilderness Classic, following the antics of Rocky R and Roman D, and later generations. I have wanted to do one for years, but alas, there was always some sort of conflict making so I couldn't attend, or they seemed a bit too crazy. Finally last year the route switched to Galbraith to Wiseman, which is an area I am fairly familiar with (and shorter than some of the past routes!), and after sitting out last year due to conflicts, this year my friend Tom agreed to join me – yay!
We drove to Wiseman, spend the night camping on the lawn of the Arctic Getaway (great folks!), and the morning loaded up and drove to Galbraith. There were 14 folks and 7 teams doing the event, including another group from Fairbanks.

The Winning Edge


Lindsey and Ellen, team Giggle

Harlow in his bug proof ultra running attire
After a bit of futzing around and someone waving a flare gun around, it went off (fortunately pointed up and safely at the sky), and at around 12 we were off!
Our plan was to take the "direct" route over to the Hammond River, going over 4 passes, and floating the Hammond out to Wiseman.
Things started well, zooming along enjoying the fast walking..

Alas, when we reached the final pass, we couldn't find a way over it, working from the west side to the east side. It ended in a small glacier which had a pretty shallow angel, but was a bit too steep for me to feel comfortable to walk on. Later I would find the Toby and Harlow walked straight up it.

Failing at route finding.. photo complements of Tom
It was pretty socked in, and the brief glimpses of the east side of the pass showed cliffs – so we turned around and headed back down to take the scenic route around the passes.
On the way down we bumped into Lindsey and Ellen on the their way up. We wished them luck with the pass. I was pretty sure they would find a way across, Tom was less certain. Later we were to find out they found a pretty straightforward up it on the east side.
We headed back down, and over to the Itkillik River, taking a pass over to an unnamed creek that lead to the creek. It was mostly uneventful though at 2am I got a bug stuck in my eye, and there was a few minutes of fussing before I got it and a ruined contact out of my eye in a comical bit of futzing.
We headed over to the divide between the North Fork the Koyukuk and the Itkillik, then headed down to the North Fork.
There is a deep canyon were the north fork drops off the divide, and while I had been told it was possible to walk the canyon, we walked the benches above the river. Eventually we dropped down to the river, and followed the creek until it looked (safely!) floatable.


my styling head net replacement..
The north fork quickly turned floatable, and we put in, deciding to take the scenic route to Delay Pass and out the Nolan road to Wiseman.
The floating was fast and fun, eventually turning very fun, with lots of nice fun boulders and water features. Alas, Tom was having spray deck issues, and we ended up walking a few miles around Bombardment Creek, but soon we were back in the boats enjoying gliding along with minimal effort..
After a nap on a sandbar near mid night with a small fire, we pushed on to Delay Pass, where we took out, and grabbed another hour or so of sleep, then packed up and began the hike out.

Me, catching some sleep, and breaking the no-sleep-til-wiseman rule
Everyone says Delay Pass is miserable hiking, but I didn't find much of it to be actually miserable, and while it was a bit of a slog, we made pretty good progress.
We cut off a fair bit of the winter trail by taking a ridge around the worst part. Climbing up the ridge kicked my butt, and my feet were starting to get a bit sore and waterlogged, and my achilles were starting to hurt, but otherwise everything was mostly fine. Once I loosened my shoes a bit my achilles were much happier.
Soon we were on the road out of Nolan, slowly shuffling down the road to Wiseman. These 6 miles took forever and were a bit hard on the feet..
We finished Wednesday at 4:30am, 65 ish hours since the start.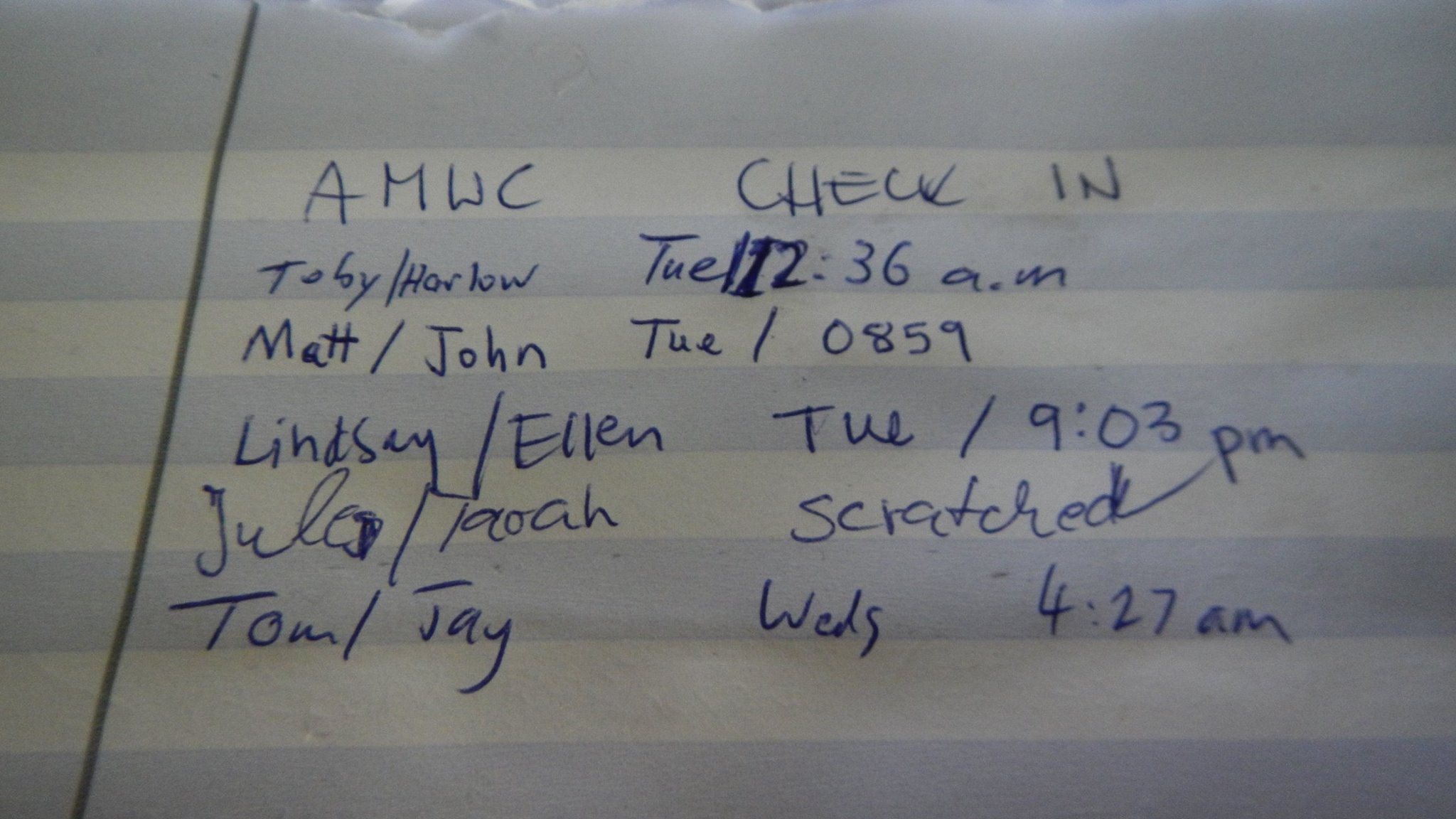 It was a great experience, thanks for the company Tom, and thanks to the Hickers of the Arctic Getaway Cabins for hosting us!
I am already thinking about next year..
As a post scripts of sorts – folks often accuse me of saying things were "mellow" when they are not. This trip wasn't mellow – but the walking was mostly good, and the floating really split things up so my body got a nice break, making for a relatively trauma free adventure. And of course, we got 4 ish hours of sleep, making things even nicer. The "harder" parts, and things I need to improve on would be to walk a bit faster, concentrate more on micro scale route finding (sticking to the bands of nice walking though the areas of not nice walking), and "staying the course" when the planned route appears to go bad, and finding a way to make it work. On the last point, I feel pretty disappointed with myself that we turned back at the first pass, assuming there was no way over, even though we knew at least one other party had gone over – Harlow's footprints were pretty distinctive, and I saw the prints on the first climb up the pass, so I so I knew folks had made it over.
A second post script – here are some brief notes (to myself mainly) on things that worked or didn't work:
 i used Gaia GPS for a bit of the navigation on this trip, and was amazed by how much easier to navigate with vs the garmin unit I normally use.  I should pre-cache satellite imagery for tricky bits, i expect that would help with navigation.
I brought a ultra lightweight bivy, and it was great for a little extra warmth and to keep the bugs off.
I pre-taped my forefoot and heels, and the tape lasted most of the trip, and I survived with only a few small blisters – success!
I had treated my shirt with Permethrin, and it worked great for keeping the bugs away.
The hmg backpack was awesome – worked great, comfortable, and light.  I wish it was made of something besides cuben fiber, as it already appears to be showing signs of wear, but I guess that is life.
A few things that worked less well:
My food choices could have used a bit more thought – i bought about 5 of the ominously named "Meal Pack Bars" – they are very calorie dense and pack well, but taste bad and are like eating dirt – dry and unrewarding.  Otherwise my food selection was fine, though perhaps more Snickers next time.
I brought a freeze dried meal, which I made before hiking delay pass – I should have brought two more, it went down great.
I was a bit unhappy with my footwear – montrail mountain masochist trail runners.  They are light and grippy, but need a stiffer rock plate for some of the walking – i bruised my feet a bit.  Otherwise they worked great – I just wish the forefront of these shoes were stiffer.  Otherwise they worked fine.   If anyone has recommendations I would love to hear them.  I would love to just use low top hiking shoes for these sort of trips, but alas I can't find any that are not goretex.
I didn't bring enough foot lube – I could have used a lot more after my feet dried out after the nap before delay pass.  Live and learn..
trekking poles would have made some of the hiking faster, and some of the stream crossings easier – next time I will bring them!
I really wish I had brought some sort of lightweight bug proof long sleeve top with a hood – it would have made the bug pressure a bit easier to deal with at times.
I suck at micro scale navigation – I need to work on finding those sections of nicer walking in sections of bad walking.  Mostly I think it just requires me to be more aware of where I am going – something to work on.
Meow Gallery: The layout circle is not available in this version.
The route:

Summer of 2018 update
The 2018 version of this is just around the corner, and I was digging around for info on the water levels when we did it in 2017. Alas, I didn't save the info (curses!), but
The Slate Creek Gauge looked like this: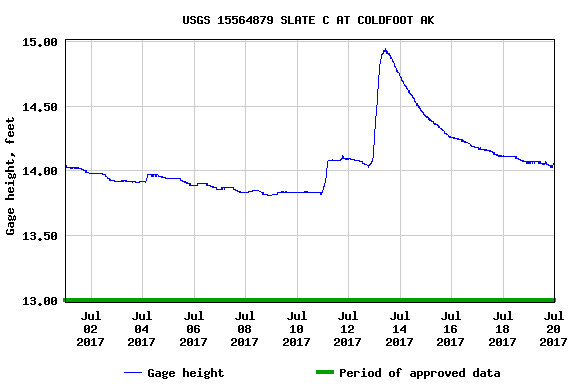 The current state of the gauge is: Slate Creek
For some reason I cannot find historical data on the river gauge at Bettles, but the current info can be found here: Koyukuk at Bettles
Tags: akmwc, alaska mountain wilderness classic, arduous, delay pass, itkillik, nolan, north fork of the koyokuk, oolah, packrafting, wiseman